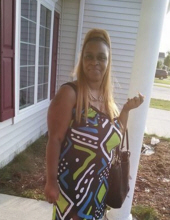 Obituary for Mary A. Ingram
Ms. Mary Ann Ingram passed away on Friday, December 1, 2017 at Covenant Healthcare-Cooper. Age 39 years. She was born July 17, 1978 in Saginaw, Michigan to Helen J. Price and Larry G. Carter.

Mary Ann was a graduate of Saginaw High School. After graduating, she attended Delta College and Saginaw Valley State University. She enjoyed shopping ,dancing singing, fashion and watching movies. Mary Ann loved to spend time with her family and friends. She was employed at several General Motors plants over ten years. Mary Ann will be missed by family and friends who loved her dearly.

Mary Ann leaves to cherish loving memories three daughters, Diamond Stacy (Claudio Martinez), Deliaha Ingram, and Danazanaha Ingram; one son, Darius Ingram; parents, Helen Jean Price and Larry G. Carter; stepfather, Albert Price; two godsisters, Milinillie Rollie and Davona Nelson; three step-brothers, Marcus Price, Johnny Price and Justin Nelson; aunts, Toinette Ingram, Leslie Ingram, Hannah Carter, Bonnie Ruth Carter and Arrie Lawson; uncles, Ed Ingram, Alfred Ingram, Alonzo Ingram, Charles Ingram, Micheal Carter; cousins, Vanita Spears, Marquitta Ingram, Angela Spears, Rachell Spears, Laquitta Ingram, Keisha Ingram, Pamela Carter, Audra Johnson, Devario Spears, Annie Jones and Asa Smith; many other relatives and friends including her best friends of twenty-five years, Laketa Brodnex, Annette Moore, Barbara Evans; special loved ones, Tonia Bernard, Shanika Page, LaTanya Jones and Tamika Evans.

Mary Ann was preceded in death by her grandparents, Leemartis Matthews, Katie Lee Carter, R.C. Triplett and David King Hawkins; aunts, Tara Ingram, Maxine Caver, Bonnie K. Carter; cousins, Deleonce Williams and Dezi Lee Henderson; best friend, Micheal Coleman.

The family would like to express special thanks to our extended family and friends for the support. during our bereavement. It has been easier with your comforting hugs and love.


Previous Events
Celebration of Life
House of Prayer Apostolic Faith
2323 South Jefferson
Saginaw, Michigan 48601
Officiating: Pastor James Lewis