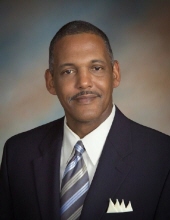 Obituary for Ronald Jones (Lansing)
Mr. Ronald "Ron" Wendell Jones passed away Thursday, November 1, 2018 at the age of 65. He was born April 3, 1953 in Chicago, Illinois to Georgia Coates and Edward Berry. Ron was adopted and raised by his loving parents Richard and Paralee Jones.

Ron was raised in Benton Harbor, Michigan, and graduated from Benton Harbor High School in 1970. He participated in a variety of school activities including basketball, cross-country, and track.

Upon graduation, he enlisted in the U.S. Army, and pursued his passion for computer programming. He was stationed in various states. However, he greatly enjoyed the time spent in Germany. Ron held many ranks in the army, with his final assignment being a Computer Machine Operator before receiving an honorable discharged May 5, 1980.

On February 7, 1975 he married Shirley Jones; following his 1977 enlistment, he moved to Lansing, Michigan and began his career at Auto-Owners. Ron was hired as an Assistant Manager of Computer Operations on July 23, 1979. He held many positions over the years, and after 37 dedicated years of service, he retired as an IT Support Service Coordinator.

He engaged in many activities, and had a love for history, reading, the old black and white westerns and sci-fi television shows, especially Star Trek. He was a proud "Trekkie". Ron also loved various sports including fishing, golfing, running, swimming, tennis and basketball. He was a great cook, known for his world famous ribs, and chili.

He deeply loved his family, and fondly spoke of childhood trips to Chicago, taking family vacations with "his girls", and enjoying the accomplishments of his children and grandchildren.

He leaves to cherish his memories his loving daughters, Alisha Cole (Duluth, Georgia), Candace Jones (Durham, North Carolina), Edna Dawn Jones (Lansing, Michigan) Tiffany Jones (Washington, DC); one sister, Veronica (Marshall) Gray; grandchildren Brittany Prowell, Brianna Cole, Jaucqir LaFond; Great-Granchildren, Zion Briggs and Journey Prowell; special nephews and nieces, Gregory Sterling, Marshall, Freddie, and Shaun Gray, Sansurae Harris, Jolanda Moore; and a host of nephews, nieces, cousins and friends.

He was preceded in death by his parents; and brothers, Jerry, Ricky, and Wesley Coates.
Previous Events
Family Hour
Paradise Funeral Chapel - Lansing
1107 East Miller Road
Lansing, Michigan 48911
Celebration of Life
Paradise Funeral Chapel - Lansing
1107 East Miller Road
Lansing, Michigan 48911