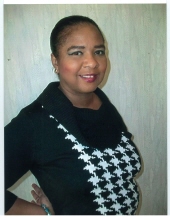 Obituary for Deborah Floyd Walker (Lansing)
Mrs. Deborah "Floyd" Walker passed away Wednesday, October 24, 2018 at McLaren Hospital in Lansing, Michigan. Age 60 years. Deborah was the twelfth child of Everett and Kathryn Floyd Sr. born in Jackson, Michigan born on September 2, 1958.

As a youth, Deborah moved to Lansing Michigan and attended Lansing Harry Hill High School. While at Lansing Harry Hill, she met the love of her life, Ted E. Walker in 1973. The two had a long courtship and married November 10, 1986. Of their union she had three daughters; LaTia (Frederick) Hogan, Aris J. Walker, Deborah M. Walker and two sons, Everett (Adrienne) Walker and Ted A. Walker. They later divorced but their undying love for one another continued until her last breath. Deborah had a unique way of expressing to each of her children and grandchildren that they were individually special to her.

She was a member of The Spiritual Israel Church & It's Army of Lansing, Michigan. As a member, she enjoyed directing the children's choir. Deborah had a love for music. She loved to sing and play the clarinet. Deborah enjoyed working in her yard gardening, painting, bowling with friends and making floral arrangements. She had a way of taking flowers and arranging them into the most beautiful arrangements.

Deborah retired from General Motors due to disability in 1990.

She is survived by her life partner, Ted E. Walker; children, three daughters, LaTia (Frederick) Hogan, Aris J. Walker, Deborah M. Walker and two sons, Everett (Adrienne) Walker and Ted A. Walker; eight grandchildren, Dante' Smith, Jerel Canty, Sierra Walker, Isaiah Walker, Jaylen Walker, Cameron Walker, Frederick Hogan III and LeVega Walker; four sisters, Dr. Judith Floyd Ingram, Elder Dr. Jackie Floyd Goldman, Hilda Floyd and Evelyn Floyd; five brothers, Everett Floyd, Jr., Larkin Floyd, Michael Floyd, Steven Floyd and Ernest Floyd; many nieces including special nieces, Valerie Floyd, Gail Floyd, Esther Goldman, Khadijah Robinson and special great niece, Vashune Potts; nephews including special nephews, Daniel Robinson, James Knighten, Johnathan Floyd and Gideon Floyd, and special great nephew, Marshaune Potts, other relatives and friends including special friends, Toniessia Daniels, Robin Goodin and Cassandra Drake-Lewis.

She was preceded in death by her parent; three sisters, Clara Floyd, Janet Floyd Johnson and Kathryn Floyd Herring; and three brothers, Arthur Floyd, Elwood Floyd and Eugene Floyd; grandparents, Clara Stanten, Warney Bumgardner, Nubra Floyd and Edward Floyd.
Previous Events
Visitation
Paradise Funeral Chapel - Lansing
1107 East Miller Road
Lansing, Michigan 48911
Funeral Service
Paradise Funeral Chapel - Lansing
1107 East Miller Road
Lansing, Michigan 48911
Cemetery Details
Location
DeepDale Memorial Gardens
4108 Old Lansing Road
Lansing, Michigan (MI) 48917