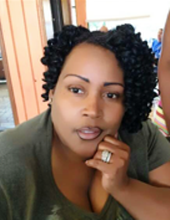 Obituary for Stephanie Batchelor (Lansing)
Mrs. Stephanie Batchelor passed away Monday, August 7, 2017 at her residence in Lansing, Michigan. Age 47 years. She was born September 27, 1969 to Willie B. and Mae L. Batchelor in Lansing, Michigan.

Stephanie was born a fighter who was brought into this world as a gift from God. She met life's challenges almost instantly. Shortly after having been born, Stephanie met death but only temporarily for the Lord knew she was something special. She beat death that day and went on to by the grace of God to enjoy her life.

Stephanie attended schools in the Lansing School District. She graduated in 1983 from Lansing Eastern High School. Stephanie pursued a career in the medical field where she was a Medical Technician, Phlebotomist, and a Lasik Eye Surgery Technician. While working, she attended Lansing Community College where she obtained many certifications and earned her associate's degree.

Stephanie had her first child, a boy named Dometrice Allen in 1990. She had two other children in 1994 and 1996, Sigmond Evans and Evonnia Evans.

Stephanie gave her life to Christ at a young age following the footsteps and lineage of her mother, grandmother and all those who preceded her. Ministry was in her blood. Stephanie attended True Light Missionary Baptist Church in the early 70's under the leadership of Pastor Bobby Bean. However it wasn't until she joined Solid Rock Full Gospel Baptist Church under the leadership of Pastor James E. Carter that her ministry began to blossom. Stephanie went onto glory in her calling, preaching her trial sermon in 1996 and from there she continued to share God's great message of love and hope for years to come.

Stephanie spent her life serving people to uplift, empower and strengthen them. She sought to bring out the best in all she knew. Stephanie also enjoyed singing, drawing, painting, listening to music, traveling and spending time with her family.

She leaves to cherish her memory her husband, Carlton Quicksey; 3 children, Dometrice Allen, Sigmond Evans and Evonnia Evans; 1 stepchild; 4 grandchildren, Landon, Elisha and Aiden Allen and Laiya Evans; father, Willie B. Batchelor; 2 brothers, Terrence Weakly and Marcus Batchelor; 3 nieces, Nikkayla, Andrea (Bryan) and Keyonna; 3 nephews, Markiese, Brenden and Marcus, Jr.; 7 aunts, Queen Foster and Linda (Johnson) Flanagan, Verneda Dye, Jerlean Gardner, Christine (Stan), Pearl, Shirley Ann Batchelor all of Milwaukee, Wisconsin; 5 uncles, Edward Weakly, Nashville, Tennessee, Edward, Arthur (Joyce), Jerry and Johnny Batchelor all of Milwaukee, Wisconsin; many loving cousins from Michigan, Wisconsin and Tennessee, other relatives including her mother-in-law, Cornelia Miller and friends.

She was preceded in death by her mother, Mae L. Batchelor, siblings, Peter Weakly, Eddie Lou Weakly, A. B. Batchelor, Queen Batchelor, Charles Weakly, Betty Turner, Mamie Marable and Doris Weakly.

The family would like to express special thanks to The Solid Rock Family, the Batchelor and Weakly families, everyone in attendance today and those who wanted to be here. We love you dearly.
Previous Events
Family Hour
Solid Rock Baptist Church
2410 S. Pennsylvania
Lansing, Michigan 48911
Funeral Service
Solid Rock Baptist Church
2410 S. Pennsylvania
Lansing, Michigan 48911