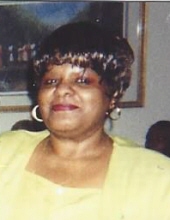 Obituary for Shirley D. Cain
Ms. Shirley D. Cain passed away Sunday, July 30, 2017 at Covenant Healthcare –Harrison. Age 64 years. She was born August 17, 1952 in Shelby County, Tennessee to Ruby L. Cain.

Shirley came to Saginaw, Michigan with her family in 1955. She attended Saginaw Public Schools, graduating from Saginaw High School in 1970. She accepted the Lord as her Savior at an early age while attending First Baptist Church of Bridgeport. Shirley loved to shop at her favorite stores, Target Store and J.C. Penney. She also loved playing the lottery, getting Instant- scratch-offs, and having manicures and pedicures. Shirley had a big heart and was very open-minded, never failing to speak what she felt. Many will remember her laughter and her "All... Right!" She will be truly missed by all those who loved and adored her.

She leaves to cherish her memory one daughter, Passionate Cain; two sons, Eric Cain and Ronald Cain; six granddaughters, Diamond Cain, Daneya Cain, Sierra Sims, Marianna Cain, Kayla Cain, and Angel Cain; eight sisters, Lois Stovall, Rose (Jeffrey) Cain-Kirkpatrick, Viola (Ronald) Schwartz, Glenda (Kermit) Crockett, Brenda Cain, Carolyn (Lloyd) Riley, Linda Cain, and Beverly Cain; two brothers, James E. Davis and Dale L. Cain; many nieces, including three special nieces, Desire Cain, Bevonity Cain, and Kila Cain-Thomas; many nephews, including five special nephews, Darold Cain, Desmond Cain and Dakota Cain; Askia Smith, and Jermaine Williams; many other relatives and friends including special friends, Charles and Rose Kelley, special neighbors, Floramay Brooks, John and Marie Jackson and family, and Cindy Dunlap.

Shirley was preceded in death by her mother, Ruby L. Cain; three brothers, Joseph Cain, Stanley Davis, and Clarence Cain.

The family would like to express special thanks to all our family, friends, and neighbors for your visits, phone calls, cards, and flowers. Thank you a whole lot! We wanted to also extend special appreciation to her daughter, Passionate, who took care of her until the end, and to her dear sisters, Rose and Beverly Cain, who stuck by her until the end. May you be blessed always!
Previous Events
Visitation
Freedom Full Gospel Baptist Church
2259 Williamson Road
Saginaw, Michigan 48601
Funeral Service
Freedom Full Gospel Baptist Church
2259 Williamson Road
Saginaw, Michigan 48601
Officiatiing: Pastor Eddie Bragg
Cemetery Details
Location
Forest Lawn Cemetery
3210 South Washington Avenue
Saginaw, Michigan 48601