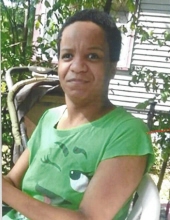 Obituary for Shardae Marie Marshall
Ms. Shardae Marie Marshall passed away Wednesday, September 27, 2017. Age 30 years. She was born September 24, 1987 in Saginaw, Michigan to Vanessa L. Marshall.

Shardae was a resident of Bay City, Michigan for many years of her life. She was born premature and was diagnosed at an early age with Autism. Shardae was non-verbal, only saying two words ever: "No" and "Andy!" She was a gentle soul. Shardae was the oldest of six children. She attended Bay City Public Schools. Shardae also attended schools in Parma, Ohio and Atlanta, Georgia. She loved music, food, plastic hangers, and swinging at the playground. She will be truly missed by her family and friends who loved her dearly.

She leaves to cherish loving memories parents, Vanessa and Andrew Laudenslager; grandparents, Georgia Marshall, Elizabeth Lauden; three sisters, Shannon Bradley-Marshall, Madison Laudenslager, and Asia Laudenslager, her step-sister; four brothers, Jay Jackson, Jamel Chatman, Javaughn Marshall, and A.J. Laudenslager, her step-brother; one niece, Brielle Marshall; one nephew, Jordan Jackson; two aunts, Sharon (Richard) Desatnik, Leanne Morgan; two uncles, Antione Marshall, Sr., Clarence Stewart, Sr.; eight cousins, Tiffany, Brittany, Rich, Jr. Desatnik, Kadeja (Tim) Blanchard, Antoine Marshall, Jr., C.J., Jazsmin, and Jaylen Stewart; many other relatives and friends including special friends, Lillian Bogle, Carol Burns, Krystal Burns, Kandice Burns, Lorre Autman, Jennifer Miller, Tina Cooper and Onie Triplett.

Shardae was preceded in death by her grandfathers, Herman Marshall and John Lauden; aunt, Lisa Marshall-Stewart; uncle, Tom Morgan; and her great-grandparents.

The family would like to express special thanks to Aaron Mitchell, Barbara Harris and Jay Calhoun.
Previous Events
Visitation
Gethsemane Missionary Baptist Church
1200 North Johnson Street
Bay City, Michigan
Family Hour
Gethsemane Missionary Baptist Church
1200 North Johnson Street
Bay City, Michigan
Celebration of Life
Gethsemane Missionary Baptist Church
1200 North Johnson Street
Bay City, Michigan
Officiating: Pastor Edward James Jones