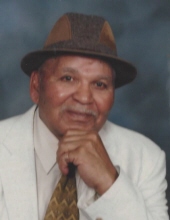 Obituary for Odie Carruth
Mr. Odie Carruth passed away peacefully on Thursday, September 28, 2017 at his residence surrounded by family and listening to his favorite music, the Blues. Age 88 years. He was born August 19, 1929 in Lexa, Phillips County, Arkansas to Mike and Ora Nelson Carruth.

Odie moved to Saginaw, Michigan where he worked over 30 years and retired from General Motors Chevrolet Grey Iron Foundry in 1987. He was a member of UAW Local 668. After moving to Saginaw, Odie met and soon married his loving wife, Sona Hart. Together they raised eight children all of whom loved him dearly. Besides spending time with his family, Odie loved fishing, hunting, working on cars, and even owned a junk yard on M-13 as a hobby. He was a member of Greater Renaissance Missionary Baptist Church under the leadership of Pastor Cedric Cheatham. Odie loved his old time Blues and could listen to it anytime. He will be dearly missed by all those whom he loved and who loved him.

He leaves to cherish loving memories his eight children, Leona Spates (DeEddie Sanders), Norma Thomas, Jamesetta (Emmitt) Christian, Marcetta (Frank) Dillard, Steven (Ann) Carruth, Odeania, Sona, and Charlotte Carruth; two sisters, Ora Carruth and Cora Womack, Lexa, Arkansas; one brother, Harry (Liz) Carruth, Saginaw, Michigan; one nephew, Mike (Bobbie) Carruth, Flint, Michigan; three sisters-in-law, Revenia Brewer, Connie Hart, and Barbara Pickett; three brothers-in-law, Fredrick Washington, Jerry (Barbara) Gray, and William Gray; eleven grandchildren, Delana (Eddie) Allen, Tricia Pruitt, Cheryl (Johnathan) Hardy, Sherry Carruth, Damon Clark, Erica (Marcus) Thomas, Steven Carruth, Marcel (Shakira) Dillard, Jamel Dillard, Kayla (Anwar) Collins, and Kirk (Beyonca) Carruth; seventeen great-grandchildren; ten great-great-grandchildren; three cousins, Melvin, Ernest, and Willie Dee White; many loving nieces, nephews, and friends, special friend, Willis Stuckey.

Odie was preceded in death by his parents, Mike and Ora Nelson Carruth; wife, Sona Carruth; four brothers, Clarence, Mike, Lev, and Ed Carruth; two sisters, Thaylia Jones and Daisy Hamilton; two brothers-in-law, Larry and Elliot Gray; three grandchildren, Gregory Clark, Evelyn Faye Spates and Darrick Carruth, Sr.; two nephews, Kirk Clayton and Darrell Carruth; and many other relatives and friends including special friend, John Brodnex.

Your kindness and the comfort it brings to us mean a lot. In fact, more than this simple "Thanks" can ever hope to show! Thank you so much! The family would like to especially thank Edd Velasco and the staff at Grace Hospice.


Previous Events
Visitation
Paradise Funeral Chapel
3100 South Washington Ave.
Saginaw, Michigan 48601
Celebration of Life
Paradise Funeral Chapel
3100 South Washington Ave.
Saginaw, Michigan 48601
Officiating: Pastor Cedric R. Cheatham, Greater Renaissance Baptist Church
Cemetery Details
Location
Forest Lawn Cemetery
3210 South Washington Avenue
Saginaw, Michigan 48601