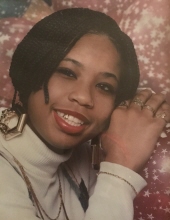 Obituary for Nakia T. Weems "Nikki"
Ms. Nakia Ta'Juana Weems "Nikki" passed away on Friday, July 28, 2017 at Covenant Healthcare-Cooper. Nakia was born on April 20, 1976 in Saginaw, Michigan to Evangeline Weems.

Nakia was a resident of Canton, Michigan. She attended Saginaw Public Schools and was a graduate of Saginaw High School, Class of 1994. She obtained an Associate in Business degree from Great Lakes College in 1999. Nakia Loved fishing and spending time with family. She will be missed by all who knew and loved her.

She leaves to cherish her memory her mother, Evangeline Weems, Saginaw, Michigan; grandmother, Myrtle Vaughn, Washington; daughter, Kai T'anay Riley of Canton, Michigan; four sisters, Natisha (McConnie) Sanders, Namaia Weathers, Saginaw, Michigan, Kish'sina Jackson, Ohio, and Miyeko Vaughn, Washington; step sister, Latosha Weathers; one niece, Jade Sanders; one nephew, Amir Gibbs, Saginaw, Michigan; a special companion with whom she shared a child, Lamar Riley, Canton, Michigan; a host of aunts, uncles, cousins and other special relatives.

Nakia was preceded in death by her son, Amariee Riley; father, Donald Vaughn; grandmother, Maggie Weems, and step-father, Ira Weathers, Jr.

The family would like to express special thanks to Covenant Healthcare E.R., Pastor Robert B. Corley, Jr. and the Prince of Peace Baptist Church family, Ivan E. Phillips and the staff of Paradise Funeral Chapel.


Previous Events
Visitation
Paradise Funeral Chapel
3100 South Washington Ave.
Saginaw, Michigan 48601
Funeral Service
Paradise Funeral Chapel
3100 South Washington Ave.
Saginaw, Michigan 48601
Officiating: Pastor Robert B. Corley, Jr., Prince of Peace Baptist Church