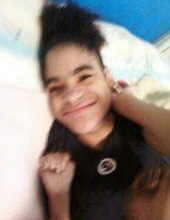 Obituary for Katrina Cottom (Lansing)
Katrina Teaira Cottom passed away Monday, November 6, 2017 at Sparrow Hospital in Lansing, Michigan. Age 27 years. She was born September 29, 1990 to Shawnta Taylor and Bradley Cottom, Sr. in Lansing, Michigan.

Katrina was a miracle baby. Doctors did not expect her to live through the day. However, for the first time of many, Katrina left the doctors in awe and lived 27 blessed years. She attended Beekman Center in the Lansing School District from 6 months old to 18 years of age. Katrina was a member of New Life International Church. She loved animals, playing with balloons and was a very happy girl. If you wanted to make her laugh, just grab a piece of paper and rip it! She also loved blowing bubbles in her spare time. Katrina had a big heart and a pure spirit. She has been a warrior all her life, overcoming the difficulties of Cerebral Palsy, numerous surgeries and in later years, kidney failure. Katrina lived a very blessed life and we are all blessed to have had her in our lives.

She leaves to cherish her memory, parents, Shawnta Taylor and Bradley Cottom, Sr.; grandparents, Corinda Cottom, Carrie Hicks, Paul Taylor and Christine Benn; 4 sisters, Alyson, Taren and Alissa Cottom, step-sister, Melody Benn; 3 brothers, Bradley, Jr. and Colton Cottom, and Quaterrio Angel; 7 nieces, Karlia Donald, Kiyala Nelson, Imari Woods, Aubrey Cottom, Abigail Cottom, Niko Waugh and Braylynn Cottom; 5 nephews, Aidan Cottom, Idris and Isaiah Woods, Kyinel and Kyimer Nelson; 5 aunts, Nikkisha Taylor, Katrina Taylor-Boyd, Corinda Huss, Alicia Knox and Nicole Cottom; 5 uncles, OC Bowers, Jr., Michael Clark, Chad Cottom, Mark Huss and Darius Knox; many other relatives and friends including special friends, Kyra, Alexis, Joe and Lucas Benn and Bill Frendt.

She was preceded in death by her grandmother, Vivian Taylor and grandfathers, OC Bowers, Sr. and Dennis Cottom.

The family would like to express special thanks to Sherese, Jessica and her dialysis family.
Previous Events
Visitation
Paradise Funeral Chapel - Lansing
1107 East Miller Road
Lansing, Michigan 48911
Family Hour
Paradise Funeral Chapel - Lansing
1107 East Miller Road
Lansing, Michigan 48911
Funeral Service
Paradise Funeral Chapel - Lansing
1107 East Miller Road
Lansing, Michigan 48911
Pastor Phillip Moore, Officiating