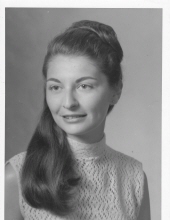 Obituary for Kathryn G. Oughton
Ms. Kathryn "Kat" Oughton, loving daughter, sister, mother and friend, passed away on Sunday, July 30, 2017. Age 76 years. She was born June 15, 1941 in Detroit, Michigan to Sereck H. Fox and Grace H. Thomas.

Kat grew up in Birmingham, Michigan and then lived in Saginaw, Michigan most of her adult life. She was an old soul. Kat loved family and having them all together. She had a very kind and loving soul that always helped when you were in need. Kat will be truly missed.

Some of Kat's favorite memories were the summers she spent at Chippewa Ranch as a young adult, traveling with her parents and going on special road trips with her dad to look for things like aged cheese. Kat will always be remembered for her love of reading, art, genealogy, archeology, cooking, baking the most wonderful homemade pies, gardening, and an extraordinary love for animals which lives on through her daughter. Most of all, Kat adored her daughter, Leigh. You see it through all the photos taken throughout their lives.

She is survived by her daughter, Leigh (Scott) Sterbanz; two grandchildren, Casie and Sara; stepdaughter, Sunshine (Matthew) Rawley; four grandchildren, Logan, Sophia, Marcus and Kahlan; sister, Janet Lyon; nieces, Jessica Axe-Poe, Jan Poe, Beth Starkey, Martha Lyon, Mary Ann (Richard) Podgorski, Gwenn (Mike) DeMaria; nephews, James (Jeanne) Poe, Clayton (Gina) Lyon, Bruce Lyon, and David Lyon; other relatives and special friends including Deb DePlonty, Stella Thelen, and The Woman's National Farm and Garden Association.

Kat was preceded in death by her parents and sister, Joan.

In lieu of flowers, please consider a charity donation to Leader dogs for the Blind, The Humane Society of the United States, Defenders of wildlife, Alzheimer's Disease Research Foundation, The ASPCA.
Previous Events
Memorial Service
Paradise Funeral Chapel
3100 South Washington Ave.
Saginaw, Michigan 48601