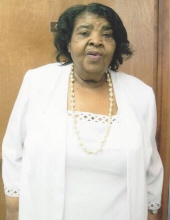 Obituary for Katherine Davis
Ms. Katherine Davis made her transition on Sunday, August 6, 2017 at her residence. Age 73 years. She was born July 29, 1944 in Clarksdale, Mississippi to Matthew Williams and Rosie Lee Ford. .

Katherine attended West District High in Clarksdale, Mississippi where she completed her education, receiving her diploma in 1964. She later came to Saginaw, Michigan with her family where she met and married Nezer Davis in 1968. He preceded her in death in 1983. To this union, two daughters were born. Katherine was employed by the Saginaw County Courthouse 1965 – 1969 as a custodian. She accepted the Lord as her Savior at an early age. Katherine joined Bethesda Baptist Church under the leadership of the late Reverend Dr. Nick Hall, Jr. She has remained a faithful member now under the leadership of Reverend Gregory Johnson, Sr. until her health began to fail. Katherine was a Sunday School teacher for years, attaining the distinguish title of "Teacher of the Month" from 1999 – 2000. She always referred to her students as her "bitties." Katherine was a faithful choir member and soloist, serving as vice-president of the Sanctuary Choir. She loved her church family tremendously and up until her sickness, she was going to be at Bethesda no matter what. Katherine will be truly missed by her family, her best friend Dessie Williams, her residents at Maplewood Manor, and her entire Bethesda Baptist Church family.

She leaves to cherish her memory two daughters, Shawn Marie Davis ( Shacky Johnson) and Derra Renita Harris, both of Saginaw, Michigan; two stepchildren, Betty Davis and James Davis; five grandchildren, Markesha Chavon Davis, Cary Lamar Davis, Chasity Marie Davis, Timothy Allen Samuel, and Alexis Harris; five great grandchildren, Daniel Davis, Cary Davis, Jr. (C.J.), Demarkus McGhee, Jr., Camari, and Lamari; one sister, Blanche Williams; four cousins, Aaron Williams, Dexter Williams, Leslie Neal, and Verna Neal; many other relatives and friends, including special friends, cousin/sister Blanche Williams, Dessie Williams, Earleen Smithers, Dorothy Harris, Emma Ruth Edwards, Juanita Halmon, Pastor Gregory and Sister Annie Johnson, Ella Jones, Deacon J.D. and Bonnie Dunbar, Shirley Mitchell, and her entire Bethesda Family.

Katherine was preceded in death by her husband, Nezer Davis, her mother, Rosie Lee Ford, great grandmother, Ella Maria Buckley; step-daughter, Dorothy (Dot) Davis; great-grandson, Devin Davis; aunt, Willie Neal; four uncles, Leslie Neal, Sr., Burbon Hentz, Bob Ford, and Ulysses Ford; two cousins, Leslie Neal, Jr., and Aaron Williams; and many other relatives and friends.

The family would like to express special thanks to all our family, friends, and neighbors for your visits, phone calls, and prayers. Thank you a whole lot! We wanted to also extend special appreciation to her first born daughter, Shawn Marie, who was there until the very end, A&D Hospice, and A&D Home Healthcare, especially nurses Christine and Suzanne.
Previous Events
Visitation
Bethesda Baptist Church
2511 Wadsworth
Saginaw, Michigan 48601
Funeral Service
Bethesda Baptist Church
2511 Wadsworth
Saginaw, Michigan 48601
Officiating: Pastor Gregory A. Johnson, Sr.