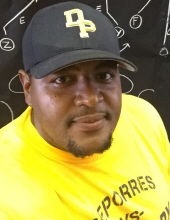 Obituary for Justin E. Malone
Our dearest, Justin Eric Malone, departed this life and went home to be with the Lord on Monday morning, July 31, 2017 at the age of 36 years, in Saginaw, Michigan. He was born December 18, 1980 in Detroit, a much loved son of Earl Malone III and Carol Malone. A President's List student, he excelled in school, receiving an undergraduate degree in Computer Information Systems and a Master's degree in Administrative Science from Saginaw Valley State University. He attended high school at Saint Martin de Porres in Detroit where he played on two state championship football teams.

On August 18, 2007, he married the former Elisa Nicole Hodge; his "love for always, not just for today." A devoted, loving, and caring husband and father to their two sons. Justin wanted his children to realize their greatest potential. Even when his health was not the best, he was a constant support and inspiration to his family and friends. In Saginaw, Justin coached in the Saginaw Township Football League. Some of his happiest times were seeing his son play. Whenever U of M or Cowboys football games were playing, he was glued to the T.V.

The family attended Newer Dimensions Fellowship Ministries and Hopevale in Saginaw for spiritual guidance.

In 2004, he landed his "dream job" at AT&T as a Specialist Applications Developer in Finance Billing Operations where he remained challenged until the time of his death. He is survived by his loving wife Elisa, and their children: sons Braylen Eric and Drew Eric. Justin is also survived by his father, Earl III (Natalie) and mother, Carol Malone of Detroit; mother-in-law and father-in-law, Deborah and Barry Hodge Sr.; brother-in-law, Barry Hodge, Jr.; grandmother, Estelle Dye; sister, Yvonne Marshall; brothers, Timothy Dye and Kevin Dye; nieces, Taylor and Kendall Dye, Kiarra Edmonds and Bailey Jade Hodge; nephews, Donavan, Timothy and Alexander Dye and Ellis Marshall, Jr.; a host of aunts, uncles, cousins, and friends.

With a smile as big as his heart and a thunderous laugh; Justin strove to not let kidney disease diminish his zest for life nor that of his wife and children. Justin's family asks that you consider becoming an organ donor through the Michigan Gift of Life Program.
Previous Events
Visitation
Paradise Funeral Chapel
3100 South Washington Ave.
Saginaw, Michigan 48601
Family Hour
Saint Cecelia Church
10400 Stoepel Street
Detroit, Michigan 48204
Funeral Service
Saint Cecelia Church
10400 Stoepel Street
Detroit, Michigan 48204
Officiating: Pastor James Friedman
Cemetery Details
Location
Woodlawn Cemetery
19975 Woodward Avenue
Detroit, Michigan 48203