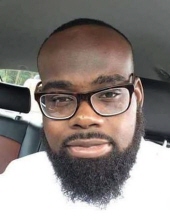 Obituary for Jason Gordon (Lansing)
Jason D. Gordon, 31 years of age, peacefully passed away June 18, 2017 at Sparrow Hospital in Lansing, Michigan. Jason was born November 29, 1985 to Robert and Cosandra Douglas in Lansing, Michigan.

Jason attended Lansing Public Schools, graduating from J.W. Sexton High School, where he played football and ran track. Following High School, Jason attended Tennessee State University, where he obtained his Bachelor's degree in Business Administration. As a young man, he created an engraving business during high school, and continued in college. Jason attended a non-denominational church while in Tennessee. After graduation he relocated to Bowling Green, Kentucky and began his career as manager of logistics' at Macy's. Jason known for his sharp taste in fashion, loved to shop, much like his dad. His favorite shoes were Jordan's, and he established quite the collection. He also loved to play video games, watching MSU basketball and football, and USC Trojan football. His favorite pastime was watching sports with his friends. Jason was creative and an entrepreneur. He also loved his premium luxury cars, owning both a Mercedes-Benz, and BMW. However, there was nothing Jason loved more than his daughter, Jazmine. Not even his father's leftovers!

Jason leaves to cherish his memory his daughter, Jazmine Gordon; step-son, Prince Lee; and their mother, Serena Lee Gordon; father Robert Leon (Doreen A.) Gordon; two sisters, Amika Gordon, Alisha Gordon; one brother, Delauren Gordon; one niece, Delaurea Gordon, four nephews, KeSean Benjamin, Jamire Benjamin, Anthony Romph, Delauren Gordon, Jr.; two aunts, Marilyn Denise Gordon, Murfreesboro, Tennessee, Dianna Douglas, Palm Bay, Florida; five uncles, Ralph Hall Gordon, Kenneth Dale Gordon, both of Sacramento, California, Steven Eric Gordon, Lansing, Michigan, Norman Sylvester (Melanie) Douglas, Atlanta, Georgia, Floyd Vernon Douglas, Gainesville, Florida, many other relatives and friends, including special friend, Alexis Waters, and Godmother, Mary Estes.

He was preceded in death by his mother, Cosandra Gordon, grandparents, Robert Lee & Denotra Gordon, Henry & Vernita Douglas, aunt Mary Elizabeth Edwards-Stephens.
Previous Events
Family Hour
Mask Memorial CME Church
5601 S. Waverly Road
Lansing, Michigan 48911
Funeral Service
Mask Memorial CME Church
5601 S. Waverly Road
Lansing, Michigan 48911