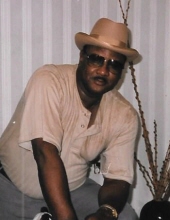 Obituary for J. D. Davis (Lansing)
Mr. JD Davis, Jr. passed away Tuesday, October 17, 2017 at McLaren Hospital in Lansing, Michigan. Age 78 years. He was born June 26, 1939 to Willie Mae Bates and JD Davis, Sr. in Hot Springs, Arkansas.

JD came to Lansing, Michigan at the ripe age of 17, where he met and married Maxine Davis. To this union seven children were born. JD retired from Motor Wheel after 30 years of dedicated service. He enjoyed swimming, bowling, and being on the lake fishing in his boat. He also loved playing cards, croquette, and interior decorating. But, mostly he loved spending time with his family and friends, especially his grandchildren. He was a loving, and caring father and grandfather. JD will be remember as a great entertainer. He will truly be missed.

He leaves to cherish his memory five daughters, Dawn L. Davis, Belinda Davis, Beverly A. Davis, Rosalind A. Davis, Sheleatha Davis-Brown; one brother, JD Davis, III; ten grandchildren, Willie Davis, Ronald Davis, Tyrone (Fatima) Davis, Danika Davis, Yolanda (Samuel) Covington, Phillip Davis, Tamekia Davis, Shaun Toya Coleman, Termaine Brooks, Denisha E. Brown; twenty-four great grandchildren; eight, great great-grandchildren; three sisters; Mozella Rhodes, Zella Mae Young, Ruby (Wynell) Henry; one brother, Charles (Lisa) Bates; two sister-in-laws, Gladys Coulter, Lisa Bates; special niece Marguerite A. Bates, and other many other relatives and friends.

He was preceded in death by his son, Ron Davis, parents, two brothers, Henry and Robert Coulter, one sister, Verna Mae Bates, and the mother of his children, Maxine Davis.
Previous Events
Family Hour
LIVELY FAITH TEMPLE
1601 Illinois Avenue
Lansing, MI 48906
Funeral Service
LIVELY FAITH TEMPLE
1601 Illinois Avenue
Lansing, MI 48906