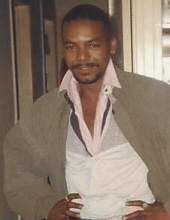 Obituary for Henry C. Harvey
Henry Christopher Harvey, a native of Saginaw, Michigan, and our loving son, nephew, brother uncle, and friend, went home to be with the Lord on Sunday, July 9, 2017. He was born January 28, 1963 to the late Henry Harvey and Lorraine Harvey Harper.

Henry "Chris", had a joyful and loving spirit. Everyone that crossed his path was very blessed to have known him. Chris attended Saginaw, Michigan and Los Angeles, California public schools. His family moved to Los Angeles, California in 1976, where he lived for 34 Years. Chris was a very loving person who loved his family and friends unconditionally. He had the biggest heart and truly loved you when you entered his life. There was nothing Chris would not do for you when you asked. He wanted to see everyone have a fun time. Most of us will remember Chris for his talented performances. He was always ready to sing at a moment's notice. His greatest passion was to sing for anyone who was willing to listen and he could really sing! Throughout his school years, Chris would indulge in plays, musicals, talent shows, and sports. While living in Saginaw and Los Angeles, he worked in music productions, writing, and singing in several groups. Chris would love to serenade the ladies, too! We can't forget about his love for dancing. Chris would pop-lock with his friends and won many contests in the Los Angeles area. He was known as the "Silver Dollar Man". In Saginaw, Chris performed in several plays. He is well known for his performances in "A Tear For You" in which he played a preacher and in a play about a powerful African American, the Honorable Elijah Muhammad. Indeed, he was a hard-working individual who always kept a job and met many beautiful people along the way, many of whom he called friends. His last job was with GCA Services Group where he contracted with Hemlock Semi-Conductor. We know now that Chris is with our Lord and Savior, Jesus Christ singing in the Heavenly Choir

He leaves to cherish his memories three sisters, Dorothy (Abraham) Allen, Saginaw, Michigan, Ariana Harvey, Los Angeles, California, and Loretta (Ruben) Polk; one brother, Everett Harvey, Los Angeles, California; his fiancée, Julie Lane, Saginaw, Michigan; five aunts, Eleanor Dixon, Rosie Stovall, Rebecca Harvey, Mary Harvey, and Toni Redd; two uncles, Everett (Toni) Redd, Neuhemsbach, Germany and Jimmy Harvey, Grand Rapids, Michigan; a host of nieces, nephews, cousins, and other relatives and friends.

Chris was predeceased by his parents, Henry Harvey and Lorraine Harvey Harper; one brother, Charles Harvey Marsh; two sisters, Jean Marie McClendon (Earl) and Linda D. Harvey-Smith; his grandparents, Charlie and Ariana Harvey, Dorothy Nave-Redd, and Bruce (Lula) Redd; three aunts, Caralene Lee, Willie Mae Harvey, and Gladys Redd; four uncles, Virgil Leslie Redd, Walter B. Harvey, Carl Harvey, and Louis Harvey.

The family would like to express special thanks to everyone for all acts of kindness and love shown during this time of sorrow.
Previous Events
Funeral Service
New Christ Community Church
3302 Grant Street
Saginaw, Michigan 48601
Host Pastor: Pastor Eugene Seals Officiating: Pastor Audrey Parker