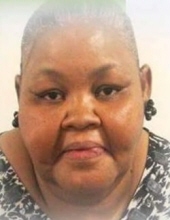 Obituary for Gloria Hall (Lansing)
Our beloved Gloria Steen Hall, also known as, "Pee Wee", went home to be with the Lord on Thursday, June 15, 2017. Age 65 years. Gloria was born December 27, 1951 in Marianna, Arkansas to Viola and Nathaniel Hall.

She moved to Omaha, Nebraska in 1960 at the age of 10 years. Gloria attended and graduated Robert R. Moten High School there. She first accepted Christ at Faith Temple Church of God in Christ at the early age of 13 years. Moving to Lansing, Michigan in 1970, Gloria continued to serve the Lord as a dedicated member of Jesus of Nazareth Church of God in Christ. She later transitioned to New Jerusalem Church of God in Christ under the leadership of Elder Charles E. Bicy. As her ministry, she worked for several years as a child care provider here. Gloria was a very soft spoken woman of God that loved the Lord and her family intimately. She became an active member of Tabernacle of David Temple enjoying the worship and most of all, her Pastor and First Lady. Gloria loved her family dearly. Her house was the welcoming place for nieces and nephews, and kids of all ages, the place to be for some good home cooked meals. Loved ones are still talking about her meat loaf. Umm..um..good.

Gloria leaves to cherish her memory two daughters, Tonia (John) Hall, and Gloria (Marshall) Hall; two sons, Joseph (Jamie) Hall and DeWayne Hall; one stepson, Joseph Rodgers II; fourteen grandchildren, Danielle, Jalen, Tiana, Nakia, Johna, John "Lil Man", Jovan, Justice, Natasia, DeZea, DeWayna, DeWayne "Man Man", Cashmire, Adonis; four great-grandchildren, De'Asia, Daniel "D.J.", King Joseph, and NyKeese, and a great-grandson on the way; siblings, Robert Barnes, Nathaniel Hall, Jr., Anne Johnson, Mable Milton, Bobby Hall, Zola Harris, and Darby Hall; many nieces, nephews, cousins, other relatives and friends, including special friends "daughter", Mary Milton, Brenda, Faye, and Ferrow.

She was preceded in death by her parents, Viola and Nathaniel Hall; two sisters, Ruthie J, Branklin and Gereline Hall; two brothers, Johnny Hall and Jimmy Hall; and one aunt, Maxine Hall-Carter.

Gloria will be especially remembered for her sweet spirit, love, and passion for God. She will be truly missed as a beautiful woman of God with a big heart by her children.

The family would like to express special thanks to Tabernacle of David, Pastor Larry Trice, Jr., First Lady Lenea Trice, Pastor Mark Parker and Lady Parker, Jesus of Nazareth church family, Elder Aaron and Lady Virsie Milton and Ivan E. Phillips and the staff of Paradise Funeral Chapel.
Previous Events
Family Hour
Tabernacle of David Worship Center
2645 West Holmes Road
Lansing, Michigan 48911
Funeral Service
Tabernacle of David Worship Center
2645 West Holmes Road
Lansing, Michigan 48911