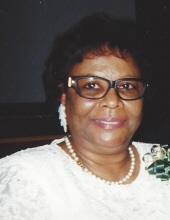 Obituary for Geraldine M. Caffey
Today we celebrate the homegoing of Mrs. Geraldine M. Caffey "Dean" who passed away on Tuesday, October 10, 2017 at Covenant Healthcare-Cooper. Age 72 years. She was born July 31, 1945 to Eddie and Kathleen Larry in Aliceville, Alabama.

Dean lived in Saginaw, Michigan since her youth, attending Saginaw Public Schools and graduating from Saginaw High School in 1963. She was employed with Covenant Healthcare retiring in the early 2000's. Dean accepted the Lord as Savior in her youth and became a member of Mt. Olive Baptist Church under the leadership of Pastor J.P. Wilson. Later in life, she united with Corinthian Baptist Church under the leadership of Pastor Roy Manning. Dean was a beautiful spirit with very loving characteristics that captured the hearts of all who knew her. She met and married Leonard T. Mathews and to this union two children were born. Later in life, Dean united with Goldstein Caffey, Jr. where she had two more children. Together they raised and loved these four children and shared 43 years of marriage.

Dean leaves to cherish her memory her loving husband, Goldstein Caffey, Jr.; her second mother, Mattie Langston; four daughters, Veronica (Darrell) Stewart, Alicia Caffey, Tenniele Caffey, and Tracey Reynolds; one son, Torrey Reynolds; four granddaughters, Chanel Stewart, A'Nyar Caffey-Gregory, Tiffany Copeland, Tangelia Stewart; seven grandsons, Jamil Wilson, Dominique Carter, Christopher Carter, Darrell Stewart, II, Cory Haynes, Derrick Campbell, and Darrell Stewart, Jr.; seven great-grandchildren; fourteen sisters, Bobbie Reynolds, Barbara (Lamar) Kimble, Geneva (Joseph) Bolton, Sharlotte Green, Lynn Hawkins, Edie Hawkins, Karolyn Hawkins, Linda (Allen) Rogers, Mildred Holdman, Ernestine Jenkins, Clotee Smith, Maxine Wade, Charlotte Melton, and Jeri Rockett; five brothers, James Wade, Luther Wade, Ronald Dugan, Keith Dugan, and Jeffrey Smith; eight sisters-in-law, Darlene Caffey, Cathy Caffey-Coburn, Maxine Jones, Anna Nuby, Flora Henderson, Sandra Sanders, Cheryl Caffey, and Antoinette (Willie) Matthews; nine brothers-in-law, Earl (Joyce) Brown, Lewis Caffey, Mitchell, Johnny Caffey, George (Bobbie) Brown, Arthur (Mary) Caffey, Wilbur Mathews, Darrell Roberts, and Gerald Roberts.

She was preceded in death by her parents, Eddie and Kathleen Larry; one daughter, Rayna Mathews; one sister, Brenda Lowery; one brother, Eddie Larry, Jr.; sister-in-law, Yvonne Mathews; grandparents, Sun and Mary Salmon; mother-in-law, Lillie Mae Caffey; father-in-law, Goldstein Caffey, Sr.; godmother, Rose Smith, godson, John Bolton; her 3rd mother, Mae Stewart; and many other relatives and friends.
Previous Events
Visitation
Paradise Funeral Chapel
3100 South Washington Ave.
Saginaw, Michigan 48601
Celebration of Life
Corinthian Baptist Church
104 South 10th Street
Saginaw, Michigan 48601
Officiating: Pastor Roy L. Manning
Cemetery Details
Location
Forest Lawn Cemetery
3210 South Washington Avenue
Saginaw, Michigan 48601