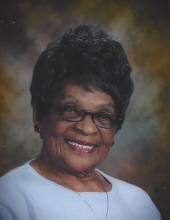 Obituary for Elnora Jackson
Ms. Elnora Jackson passed away on July 9, 2017 at Covenant Healthcare-Cooper. Age 93 years. She was born on April 25, 1924 in Keo, Arkansas to Thomas and Cora Lee Dilworth.

Elnora and Porter Sims were married in March of 1943 in Little Rock, Arkansas. To their union, two sons, Samuel and Norvell, and one daughter, June Dester Sims, were born. She married Earl Jackson on March 4, 1947 in Carlisle, Arkansas. To this union, one daughter, Chinziner, and three sons, Kevan Lemond, Joseph Q. and Ronnie Haven Jackson were born.

Earl and Elnora celebrated their 40th wedding anniversary in 1986. Earl passed away in 1987. Elnora devoted many volunteer hours to community service on the south side of Saginaw, Michigan. Her hobbies and activities included serving as a den mother to Cub Scout troops, ceramics, art, sewing, and playing softball. Elnora also wrote a book on her life experiences. She loved children and was happy when she could share something to help guide them onto the right path. She was a Foster Grandparent at C.C. Coulter and Jessie Rouse Elementary Schools of Saginaw, Michigan where she mentored for many years. Elnora was the recipient of numerous community service awards. She also loved sharing Bible truths with others. Elnora was baptized as one of Jehovah's witnesses in 1967, and regularly participated in volunteer services at the Bridgeport, Michigan congregation where she began her ministry. She also had the privilege and honor of helping to form the Saginaw South Congregation in 1970. Elnora enjoyed many years as a fulltime publisher in the ministry.

She leaves to cherish loving memories one daughter, June D. Pratt, Saginaw, Michigan; three sons, Norvell (Ava) Sims, Lesuer, Minnesota, Joseph Q. (Roxanne) Jackson, Phoenix, Arizona, Ronnie H. (Re'nee) Jackson, Fort Worth, Texas; many grandchildren, great-grandchildren and great-great grandchildren; sister-in-law, Lois Muhammad, South Bend, Indiana; daughter-in-law, Lillian Jackson; spiritual daughter, Shelly Ann (Anthony) Johnson, Lexington, Kentucky; spiritual son, Andre Hawkins; many other relatives and friends.

Elnora was preceded in death by her husband, Earl; daughter, Chinziner Jackson, sons, Kevan L. Jackson and Samuel Sims; stepson, Earl Jackson, Jr.; great-grandson, Antoine Sims; sisters, Mae Betha Keener and Lillie Dilworth; brothers, Samuel Keener, Nathaniel, Thomas, Curly, Mussa, Richard, Joseph and Van Lester Dilworth.

The family wishes to thank all of Elnora's Christian family and friends for their loving support, encouragement and kindness shown during their time of sorrow; a very special thank you Covenant Healthcare-Cooper (3rd Floor nurses), Ivan E. Phillips and the staff of Paradise Funeral Chapel.


Previous Events
Visitation
Paradise Funeral Chapel
3100 South Washington Ave.
Saginaw, Michigan 48601
Funeral Service
Kingdom Hall - Jehovah's Witness
1203 N Niagara St
Saginaw, MI 48602
Officiating: Brother Al Harrell