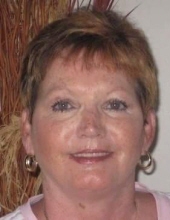 Obituary for Elaine Carter
Ms. Elaine Dorothea Carter passed away on Sunday, July 16, 2017 at the Toni and Trish House in Auburn, Michigan. Age 65 Years. She was born September 15, 1951 in Everett, Massachusetts to Irene Delaney-Benoit and Bernard Benoit.

Elaine came to Saginaw, Michigan during her teen years attending Saginaw Public Schools and St. Joseph Catholic Church under the leadership of Father Dan Anholzer. After living in Saginaw for over 25 years, Elaine returned to Everett, Massachusetts where she worked as a Nurse's Aide in a Boston nursing home. She loved listening to all types of music, and spending time with her family. Elaine had a big heart and generally loved people. She loved coming back to Saginaw often, and always made her famous spaghetti and meat balls for everyone. It didn't matter where her family was, Elaine would always make sure she made some contact with them. Elaine will be dearly missed by all those who loved and adored her.

She leaves to cherish her memory, former husband and friend, Rubin Carter, Sr. of Saginaw, Michigan; son, Rubin (Dora) Carter, II, Greeley, Colorado; daughter, Felicia Carter (Calvin Page), Saginaw, Michigan; six grandchildren, Andrew (Leah) Carter, Rubin Carter, III, Johnathan Carter, all of Greeley, Colorado, MyLisa Farmer, Kanisa Farmer, and Devontae Page, all of Saginaw, Michigan; great-grandchild, Rubin Carter, IV; two sisters, Lois (Joseph) Hannabury-Deno, St. Augustine, Florida and Janice Cawley, Lynnfield, Massachusetts; two brothers, Robert Benoit, Ft. Lauderdale, Florida, and John (Cindy) Benoit, Wilmington, Massachusetts; many nieces, nephews, cousins, and other relatives and friends, including special friends, Yolanda Villarreal-Bolanos, Carlon Carter, Morgan Carter, and Sharon Barney.

Elaine was preceded in death by her parents, Irene Benoit and Bernard Benoit; longtime companion, Andrew Chiarello; and mother-in-law, Ardella Carter.

The family would like to express special thanks to the Toni and Trish House of Auburn, Michigan, Heartland Hospice, and Ivan E. Phillips and the staff of Paradise Funeral Chapel.


Previous Events
Memorial Service
Paradise Funeral Chapel
3100 South Washington Ave.
Saginaw, Michigan 48601