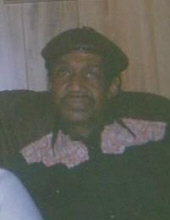 Obituary for Cornell Howard
Mr. Cornell Howard passed away on Monday, September 18, 2017 at St. Mary's of Michigan-Saginaw. Age 81 years. He was born December 25, 1935 in Surrency, Georgia to Nathan and Hattie Howard.

Cornell relocated to Saginaw, Michigan with his parents at the age of 9 years. He became an independent man doing lawn care and handy man duties. As a member of Greater Love Ministries C.O.G.I.C. under the leadership of Pastor James Snead, he loved to praise and worship God. Even as a resident of Avista Nursing Home, Cornell would hear the Word preached and tears would fill his eyes for his love for Jesus. He would call his favorite sister, Marilyn, and pray for her. Cornell loved playing pool, watching movies, laughing, and telling jokes with his family and friends. He loved eating and cooking soul food. Cornell was crazy about his niece Debra Bridgewater's fruit salad. He would never lie. If you asked him something that he didn't want you to know, Cornell would act like you never said one word and would totally ignore you. "Yea, yea, and nay, nay" because Cornell believed silence was golden.

He leaves to cherish loving memories one sister, Marilyn Jean Cheathem; four nieces, Debra Bridgewater, Carolyn Sample, Tushja and Valerie Braddock; nine nephews, Anthony Bender, Troy, Tyrone, Mark, Stanley, Melvin and Pastor David Howard, Spiva Haynes, and Lawrence Braddock; one special sister-in-law, Mother Wealthy Howard; many other great-great-nieces and nephews and friends; special friends, Doris Morris, Carolyn, Willie, Babe and Lee Williams "Tex".

Cornell was preceded in death by his parents, Nathan and Hattie Howard; five brothers, Artis, Otis (Willie Mae), Odell, Troy and Pastor Nathaniel Howard, one sister, Missionary Margaret Braddock; two brothers-in-law, Deacon Amos Bridgewater and J.D. Cheathem; seven nephews, Roger, Kenneth and Ronnie Howard, Artis Bothuel, Terry Lee, Lorenzo Tracy, and Tamarus Bender; four nieces, Constance Wallace-Washington, Elizabeth Davis, Evonne and Jeanette Howard.

The family would like to express special thanks to Mark Howard, Pastor David (Diane) Howard, Pastor James (Charlene) Snead, Pastor Harold (Althea) Jones, Mattie Bender and Avista Nursing and Rehab Center.
Previous Events
Visitation
Paradise Funeral Chapel
3100 South Washington Ave.
Saginaw, Michigan 48601
Celebration of Life
Paradise Funeral Chapel
3100 South Washington Ave.
Saginaw, Michigan 48601