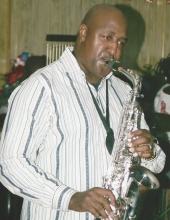 Obituary for Clifford Arnett Williams
Mr. Clifford Arnett Williams, son of O.C. and the late Jessie Mae Anderson, passed away on June 27, 2017 at the University of Arkansas for Medical Sciences in Little Rock, Arkansas. Age 59 years.

Clifford was a faithful member of Spiritual Israel and its Army, Temple # 7, until he relocated to Pensacola, Florida in 2000. He loved fishing, hunting, sailing, gardening, riding horses, demonstrating Martial Arts and spending time with his dogs, Baby and Akasha. However, Clifford was most passionate with the instrument he loved, "the saxophone." He could be found spending countless hours practicing, perfecting his craft, and performing with his sister, Cassandra Williams. This love would inspire him to form his first band, "WILL INSPIRE."

Clifford is survived by his loving companion, Jennifer Mason of Pensacola, Florida, who stood by his side until the end; parents, O.C. (Elise) Anderson, step-father, Joe Wiley, Saginaw, Michigan; children, Briana Williams, Saginaw, Michigan, Clifton (Barbara) Anderson, Arlington, Texas, Nikesha (Antoine) Thompson, Fort Campbell, Texas, and Loren Williams, Atlanta, Georgia; grandchildren, Gabrianna, Aaliynah and Gianna, Saginaw, Michigan, Briana and MiKayla, Arlington, Texas, Cangela, Cleveland, Ohio, Anthony, Suraiya, Khennadei and Asaunni, all of Fort Campbell, Kentucky; siblings, Calvin (Vivian) Williams, Glenda Kelley, Mechelle Williams, Saginaw, Michigan, Cassandra Williams, Pensacola, Florida, Bennie Steiner, Detroit, Michigan, Ricky Cameron, Arlington, Texas, Vickie Cameron, Johnathon Cameron, Columbus, Ohio, and Edith Ware, Detroit, Michigan; godchildren, Jazmonique and LaShone Jones, Saginaw, Michigan; many aunts, uncles, nieces, nephews, cousins and friends; special friends, Curtis Thomas and Larry Archibald, Saginaw, Michigan.

Clifford was preceded in death by his mother, Annie Ruth Williams, father, Arduster Cameron, brothers, Arduster Cameron and Derrick Henderson, and a special friend, Johnny Frank Barnes.

The family gives special thanks to Erin Mason and children, Charles Borner, Nathan (Brenda) Bass, David and Bennie Young, Micheal Hewlett, Pensacola, Florida, Jerome and Karla Smith, Montgomery, Alabama, and Mike Riley, Pensacola, Florida.
Previous Events
Visitation
Spiritual Israel Church
120 South 5th Avenue
Saginaw, Michigan 48601
Family Hour
Spiritual Israel Church
120 South 5th Avenue
Saginaw, Michigan 48601
Funeral Service
Spiritual Israel Church
120 South 5th Avenue
Saginaw, Michigan 48601
Officiating: Elder Joe Grace