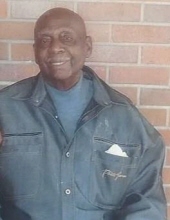 Obituary for Cleavland Smith, Sr.
Mr. Cleavland Smith, Sr. passed away on Friday, July 7, 2017 at Aleda E. Lutz VA Medical Center. Age 89 years. He was born on May 26, 1928 in Ozark, Alabama to Emory Smith and Nettie (King) Smith. He was preceded in death by all of his siblings.

Cleavland was a resident of Saginaw, Michigan for 71 years. He served four years in the U.S. Army and was deployed during the Korean Conflict with 3 lifelong friends, Joel McMillon, Sgt. Bartow Petty and Uribe Welch. He was a member of Zion Valley Baptist Church under the leadership of Pastor John Rincher. Mr. Smith was employed by General Motors Corporation (Saginaw Manufacturing Plant) 33-1/2 years, and was a member of UAW Local 467. He enjoyed fishing, especially with Jr. and Jitty; he also loved roller skating, playing dominoes and cards, music, and socializing with family and friends. Cleavland loved telling jokes and making others laugh. His favorite quotes were "The living knows they're going to die, but the dead know nothing," and, "It's better to be a live dog than a dead lion." He will be truly missed by all who knew and loved him.

He leaves to cherish loving memories nine daughters and five sons, Phyllis Thorne, Cleavland Smith, Jr., Anthony Smith (Janice), Reginald Smith (Felicia), Alice (Roy) McCulloh, Jacksonville, Florida, Janet Smith Sandra Smith, Yvette Smith-Brazil, Marietta, Georgia, Kathleen Smith, Philip Smith, Kalvin Smith, Omaha, Nebraska, Tanita Ezell, Fatima Mayo, and Terry Lynn Carr; 32 grandchildren, Sheri (Carey), Quela, Bryant (Bo), Taneesha, Ravin, Jasmine, Mary, Gladys, Lacretia, Anthony, Andre, Antujuan, Felicia, Latoya, Reginald, Lamonte, Todd, Dominique, Crystal, Tawanna, Lakeisha, Terry, Malik, Deontae, Teira, Tameka, Micheal, DeAndre, Lamont, D'quavious, Lateasha, Deshon and Shanema; many great-grandchildren and great-great-grandchildren; many nieces and nephews including a special niece, Rosamary (Scipio) Williams, who was there during his two-year illness; a host of other relatives and friends including Annie McDonald, Joel McMillon, Sgt. Bartow Petty, The Honorable Judge Marilyn Atkins, Ruby Jones, and Mildred Ezell. Terry Blakes and Ed Marshall.

Mr. Smith was preceded in death by his son and daughter, Billy Donahue and Michelle Jones; parents, Emory and Nettie (King) Smith; four sisters, Mamie Doster King, Mary Lillie Baker, Annie Lipton and Florine (Calvin) Bryant; one brother, Delzie Smith; the mothers of his children, Flora Smith and Minnie Smith; brother-in-law, Abraham Dexter, and lifelong friend and cousin, Uribe Welch.

The family extends special thanks to Yohanna at Hoyt Nursing Home and Charles Birden; a very special thanks to the Palliative Care team at the Aleda E. Lutz VA Medical Center, Dr. Bartnik, Julie Csongradi and Pam Malloy.
Previous Events
Visitation
Paradise Funeral Chapel
3100 South Washington Ave.
Saginaw, Michigan 48601
Family Hour
Paradise Funeral Chapel
3100 South Washington Ave.
Saginaw, Michigan 48601
Funeral Service
Paradise Funeral Chapel
3100 South Washington Ave.
Saginaw, Michigan 48601
Officiating: Bishop Alvernis Johnson, Kingdom Life Ministries
Cemetery Details
Location
Great Lakes National Cemetery
4200 Belford Road
Holly, Michigan 48442