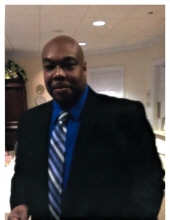 Obituary for Anthony Stitt (Lansing)
Mr. Anthony Cleavon Stitt passed away Thursday, May 3, 2018 at his residence in Lansing, Michigan. He was 44 years old. He was born August 13, 1973 to Mr. Tonie Lewis Stitt and Mrs. Rosie Mary Stitt in Little Rock, Arkansas.

Anthony had been a resident of Lansing for over 40 years. During his stay in Lansing, Anthony attended Robinson Memorial Church of God in Christ, formerly known as St. Paul Church of God in Christ in his early years. Anthony was a graduate of Eastern High School, class of "93". Anthony worked various jobs, until he found his calling in painting. It was then he took a leap of faith and began his career as a successful entrepreneur painter. Anthony had many hobbies and interests, which included, basketball, bowling, and raising the finest Pitbull's and Rottweiler dogs. He was an outstanding father! He loved his kids DEARLY! However, one of his favorite cousins, LaDonna, made sure he knew he was a "washed up O.G. on the basketball court (Lol). For some reason, Anthony felt that out of all his family members, that he was the one blessed with the Good Looks! Anthony was the type of person that would literally give you the shirt off his back. His loving, caring, and compassionate ways were no secret to anybody that came in contact with him.

He leaves to cherish his memory his daughter, Alyssa Rose Stitt; two sons, Marshall Darin Stitt, Andrew Lewis Stitt; two sisters, Twaila Rosha Harris, Tanisha Shaunta (Myron) Gilmore; three brothers, Karlton Lavar (Diana) Stitt, Jabralon Johnta Stitt, Calvin Terrell Willis; nieces, nephews, aunts, uncles, cousins, and many other relatives and friends.

He was preceded in death by his parents.
Previous Events
Visitation
Paradise Funeral Chapel - Lansing
1107 East Miller Road
Lansing, Michigan 48911
Family Hour
New St. Paul Church of God in Christ
1717 East Cavanaugh Road
Lansing, Michigan 48911
Funeral Service
New St. Paul Church of God in Christ
1717 East Cavanaugh Road
Lansing, Michigan 48911