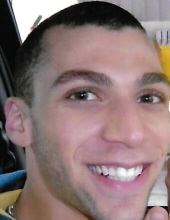 Obituary for Andrew Stanton Thomas
Andrew Stanton Thomas was born May 28, 1981 in Bay City, Michigan to David Stanton Thomas and Merry Kusant. He attended school through the eleventh grade and later received his General Education Diploma. He was baptized as a child, completed confirmation classes and was a member of Sacred Heart Church. Andrew loved computers and was a computer whiz. He could repair them with ease and build them from scratch. He also was a licensed real estate agent and a lifeguard. He loved traveling, swimming and doing Tae Kwon Do with his Uncle Charlie. He was a lover of animals of all kinds and he loved people. Nothing brought him more joy than spending time with his family, especially his children. India and Kyler were his greatest joy and he cherished every moment he had with them. From childhood to adulthood, Andrew was a tenderhearted person with a kind soul. He helped his mother through cancer and took special care of a very dear friend, Ted Olson, until he passed in August 2016. On Sunday, July 8, 2018, Andrew went from labor to rest. His heart, mind, body and soul are now at peace.

Andrew was preceded in death by his grandparents, Theodore Daggs, Mary Revis, Eittle P. and Mable D. Damm; sister, Angela Lynn Withers.

He leaves to cherish precious memories father, David Stanton (Gloria) Thomas; mother, Merry (Thomas) Kusant; daughter, India Marie Thomas; son, Kyler Stanton Thomas; sister, Zillah Thomas-Nelson; brother, David Stanton (Yolanda) Thomas, II, Michael Samon Thomas, Juan Parra, Ronald (Melissa) Withers; aunts, Janis (Bill) Meitzen, Liska "Cookie" Degroat, Debra Daggs, Marie Moss; uncles, Charlie Harvey, Carl and Dwayne Daggs; niece, Xsona Nelson, Angela, Kelsey, Brooke, Ronni; nephew, Jared; many other relatives and friends.
Upcoming Events
Visitation
Paradise Funeral Chapel
3100 South Washington Ave.
Saginaw, Michigan 48601
Family Hour
Paradise Funeral Chapel
3100 South Washington Ave.
Saginaw, Michigan 48601
Celebration of Life
Paradise Funeral Chapel
3100 South Washington Ave.
Saginaw, Michigan 48601
Cemetery Details
Location
Forest Lawn Cemetery
3210 South Washington Avenue
Saginaw, Michigan 48601